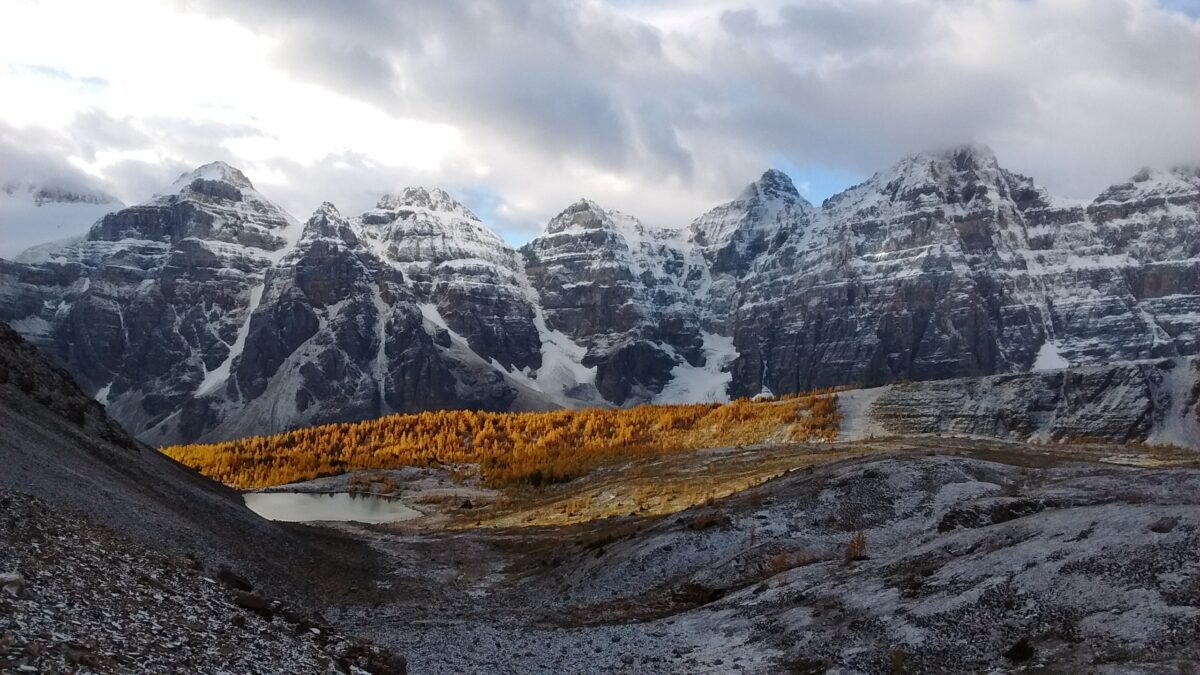 One of the most iconic destinations in Banff National Park- Moraine Lake- becomes even more enchanting in the Autumn, as the Alpine larch changes colour
The alpine larch is unique amongst its conifer cousins, such as pine and spruce trees. Whilst other conifers stay green year-round, the larch begins a stunning transformation come the Fall, as its needles turn autumnal shades of orange and gold. Frame an entire valley of these extraordinary trees against the rugged, glacial capped peaks of the Canadian Rockies and you have the world-renowned Larch Valley of Banff National Park.
During a small window in September and October- before the road to Moraine is closed due to avalanche risk- hikers from all over flock to Larch Valley, cameras in hand, to witness this unmissable event. With Alpine Air Adventures you can avoid the stress of pre-dawn driving and trying to find a parking space, and instead let our experienced and knowledgeable guides take you on a 5-6 hour day hike through the unforgettable Larch Valley, all the way up to the lofty heights of Sentinel Pass – a 2600m elevation viewpoint at the foot of Mt Temple, offering sweeping vistas of the Valley of the Ten Peaks on one side, and Paradise Valley on the other. This bucket-list hike will undoubtedly be the highlight of your trip to the national park, and with our guides you can rest assured that you'll get the best possible experience – safe, fun and informative, without any of the stress of planning the trip.
Don't miss out, book today!
Tour Highlights:
Pick-up/drop-off directly at your Banff or Lake Louise hotel
Guaranteed entry to Moraine Lake with our shuttle service
An experienced, local hiking guide, trained in wilderness first aid, as well as knowledgeable about the park's flora, fauna, natural and human history.
A filling and delicious hiking lunch included, provided by a local Banff bakery
Views include: Moraine lake, Fay glacier, the Valley of the Ten Peaks, Larch Valley, Minnestimma Lakes, Sentinel Pass and Paradise Valley
Possible wildlife sightings: marmots, pikas, ground squirrels, mountain goats, grizzly bears.
$139.99 per person
Banff pick up at 8:30am & Lake Louise pick up at 9:30am.
Cost based on a minimum of 4 people to run tour. Private programs are available, please contact us directly at [email protected]
Hike details: 11.6km round trip, 817m elevation gain
Participants need to be at a moderate level of fitness for this hike.
Participants need to bring warm layers, sturdy hiking boots and a waterproof jacket. A toque/beanie and gloves are also recommended. Weather conditions can change rapidly in the valley, and it's not uncommon for it to snow in September.
The guide has the right to refuse any guests that are not dressed appropriately for the conditions, without refund. If you have any questions please contact 403.522.2700
Book Online
If you have questions regarding this program please contact us at [email protected].